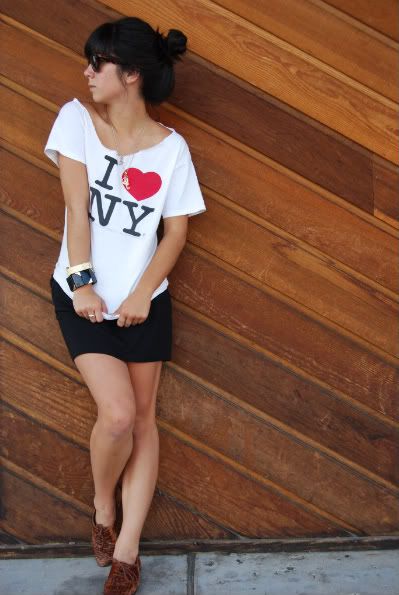 Alright, so another day skipped. Sorry, folks, things have been pretty crazy lately entertaining the fact that I'll be switching over to a job that I will really, truly love. Exciting and nerve-wracking all at once. But more on that later.
This outfit has been my weekend bumming outfit. You know the kind. Roll out of bed, mow the lawn that has now grown 7 inches out of control, take a shower and throw on the first thing that looks a.) clean b.) comfy c.) proclaims your love for a certain city.
Sure, it's not that exciting of an outfit, but I could seriously live in this. If white didn't have a horrible reputation for getting dirty quickly, that is.
On a side note, and a cherry on top of my bumming weekend, the lovely Lacy of
Lacy's Mess
has done a sweet, little feature on me. Why is beyond me because this girl has some serious rocking style all her own with some of the most awesome hats I've seen. You can check out the feature
here
, but do please, stop by and see her outfits first. 
Thanks again, Lacy!
Shirt: I Heart NY souvenir shirt, gift
Skirt: Black bandage skirt, Target
Shoes: Brown leather jazz shoes, vintage
Sunglasses: Tortoise shell Wayfarers, vintage Ray-Bans