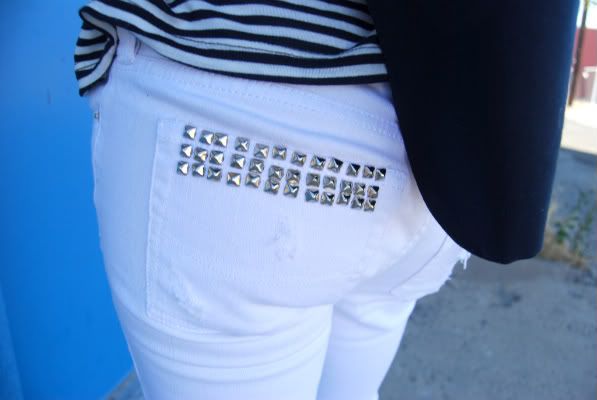 These bad boy jeans were courtesy of
PacSun
, one of our generous sponsors for the Weardrobe Conference. The jeans, the specimens for our DIY workshop full of studs and shredding galore, served as a blank canvas of sorts and after a mad dash of all 20 girls rushing toward the jean table, these white ones were left.
I shrugged my shoulders and said, "Labor Day, Schmabor Day."
I'm going to break the rule and live to tell about it.
Technically though, these jeans are a work in progress. I finished the back pockets with some studding detail and wanted to add a little somethin' somethin' to the front. I started doing this pant cuff pattern but sadly, my thumbs wore out on me.
Studding is a lot of work, ya know?
What do you guys think? More studs or should I save my thumbs?
Blazer: Navy blazer, Urban Outfitters
Shirt: Black and white striped tee, Urban Outfitters
Jeans: White Hermosa jeans,
PacSun
Shoes: Black cage heels, Beacon's Closet
Jewelry: Rosary necklace, Target, Gold, multi-layered necklace, Wet Seal
Bag: Black leather purse, Old Navy
Sunglasses: Tortoise shell sunnies, Fred Flare