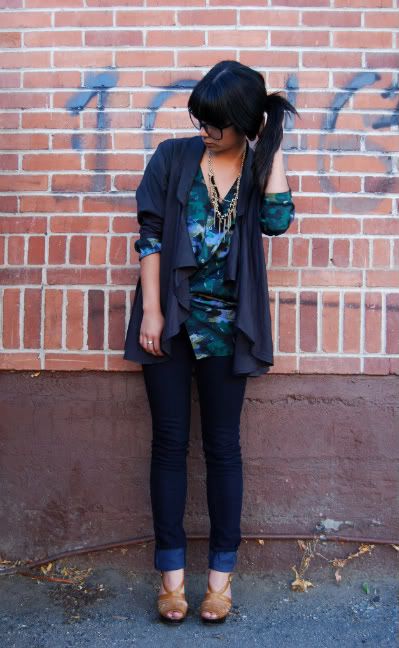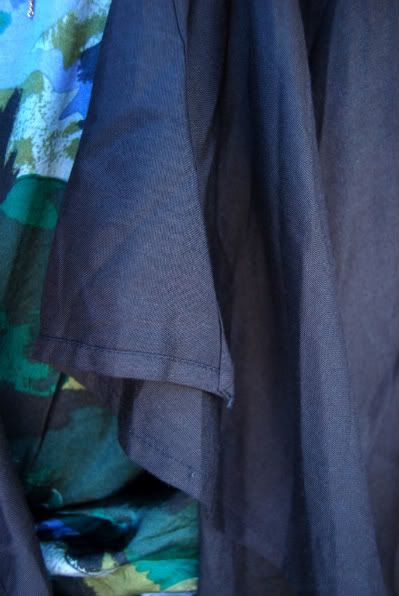 Hey all. Apologies for the sporadic posts lately. We're approaching deadline time here at work and things are getting hectic. And by hectic I mean I'm preparing to sleep less than a couple hours a night before this coming Monday.
Enough whining out of me, though. Today's outfit was so comfortable, like a painter's smock. The flow of the cardigan and the gem tones of the top underneath made me feel, well creative. I suppose that's a very uncreative way to express myself but you get the picture. I felt like picking up a paintbrush, tying my hair back and throwing buckets of paint at a wall.
Instead, I had to settle for sitting in front of a computer and taking a quick road trip with the boss for around town errands. En route, I picked up this AWESOME leopard print faux fur jacket that I have been coveting on everyone else's blogs lately. I think I might be living in it this coming winter. GLAM.
Cardigan: Dark grey cardigan, Urban Outfitters
Shirt: Button down shirt dress worn as shirt, Urban Outfitters
Jeans: BDG jeans
Shoes: Tan platform pumps, Michael Kors
Jacket: Vintage leopard print faux fur jacket