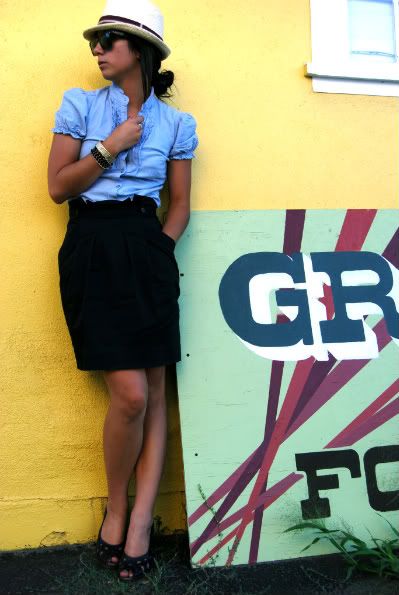 Good news, folks. Bob Dylan was incredible last night. Despite my doubts that he would play strictly new stuff (not that the new is bad my any means) he did manage to work in "Mr. Jones," "How Does it Feel?" and even a slightly raspier (and dare I say sexier?) version of "All Along the Watchtower." I. Was. Smitten. (I'll pause now for you all to feel a slight pang of jealousy. Take your time. Really.)
Bad news, I was perhaps too smitten and woke up waaaay too late to take a shower this morning. (I'll pause now for you all to saw,"Ewww.") So yet again, the fedora came out to play, to which one of my co-workers mentioned made me look like an old-time reporter. I searched desperately in my car for a reporter's notebook before taking this picture, to no avail. I did happen to make myself a makeshift press badge for the brim of my hat, though. 
What? Don't act like you've never made one for your fedora. It's totally cool. Saw it in Vogue. Anna was sporting it. 
Shirt: Blue ruffle button down dress worn as shirt, Silence & Noise
Skirt: Black paper bag waist skirt, BCBG
Shoes: Black wedges, Kenzie
Hat: Straw fedora hat, Peter & Grimm
Sunglasses: Black Warfarers, Ray-Bans