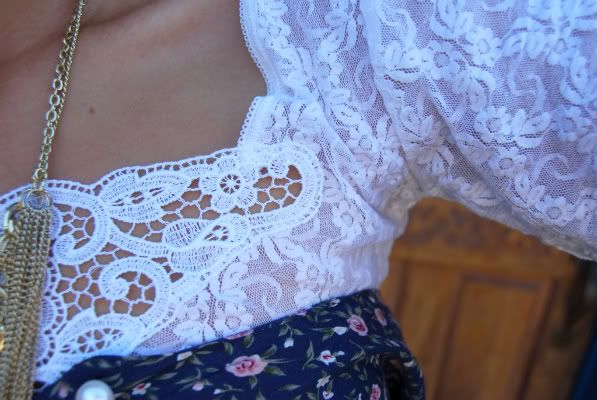 So I've had this particular outfit in mind for hmmm...ever since the July Free People catalogue arrived in my mailbox. It was chock full of ladies layered in lace with floral dresses, boots and fanciful pretty things. From that eventful day on, I've been pining away for a lace bodysuit of my own. 
Today, I found it on my lunch break. (Quick jaunt to Goodwill always does wonders on a Thursday.)
Only drawback is I wasn't completely satisfied with the chosen floral dress. It actually has sleeves and I thought I was being brilliant by tucking them away to the sides into the incorporated tie belt. Soon after though, I was left feeling somewhat disappointed by the end result. Do you guys ever do that? Try so hard to get a certain look only to feel like you've fallen a tad short?
Or perhaps I'm just being neurotic and really deep down wanted to get the $48 counter version of this body suit from Free People.
C'est la vie.
Bodysuit: White lace bodysuit, vintage
Dress: DIYed vintage dress
Shoes: Black lace-up ankle boots, H&M
Jewelry: Gold multi-layered necklace, Wet Seal
P.S. Check back tomorrow. I should have a lovely little DIY project for you that I'm rather fond of. Oh, and extra big thanks for all the great feedback about the previous fall fashion post. Keep 'em coming guys!