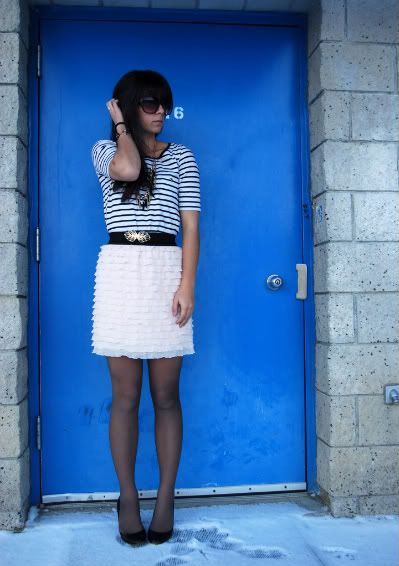 Just a quick outfit post before I head out the door again to attend to ... you guessed it ... last minute gifts! It's OK guys. I work well under deadline. Unless it's debating between
this
and
this
for a few of my friends. Then I could take forever.
The outfit you've seen before on
Ms. Julie of Orchid Grey
and
Ms. Jen of Jenloveskev.
Thanks for the inspiration ladies! I owe you one for the 20 minutes I saved that would have been otherwise spent on picking out a comfortable outfit.
Merry Christmas everyone! Yes, I'm saying it early. And also, thanks for all the advice from the previous post! Keep it coming! Ya!
Shirt: Black and white striped dress worn as shirt, H&M
Skirt: Pale pink tiered ruffle skirt, Urban Outfitters
Tights: Black sheer tights, Target
Shoes: Black heels, Aldo
Belt: Black elastic band with gold clasp belt, vintage