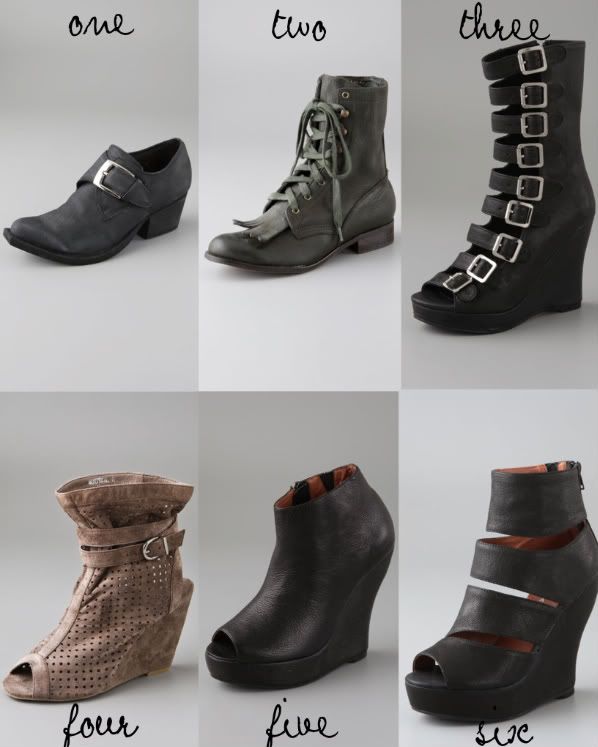 If you couldn't tell, mama needs a new pair of shoes. And yes, she's shopping in bed. There's something about being off your feet that just makes you want to adorn them with something that more than likely hurts then, right?
What I love about wedges (the obvious theme above) is that they support more of your foot and if walking around San Fran, they make walking up Masonic Street a piece of cake. (Heck, I even ran up that hill, which in hindsight, wasn't a good idea when carrying bags of clothes, but I digress.) Plus, I think most of these will transition nicely into spring, with cute floral dress combos and cropped trousers.
I'm contemplating getting one of the above
Jeffrey Campbells
, available now at
Shopbop
, a lovely new sponsor of This Time Tomorrow. Do you guys have a favorite? Let's hear it! The polls are open now!
1.) Pilgrim Snip Toe Booties, $169.40
2.) Acme Lace Up Boots with Removable Kiltie, $190
3.) Potion Ankle Boots, $165
4.) Montreal Perforated Suede Booties, $158
5.) Tick Wedge Booties, $200
6.) Tickle Open Toe Slashed Booties, $145
And just in case I haven't said it enough lately, I just want to thank each and everyone of you for reading! Your support and love amazes me everyday, to the point I have to pinch myself sometimes. Seriously. No one was supposed to read this blog besides my mom, and she admits to not even checking it that often. (It's OK, mom. No hard feelings.)
Plus, special thanks to Kait of the blog
Kait Moss
for the Haight Street store tips. So nice meeting you yesterday in SF! Hope your day of shopping was successful!
Happy Sunday, guys! Time for an afternoon run...