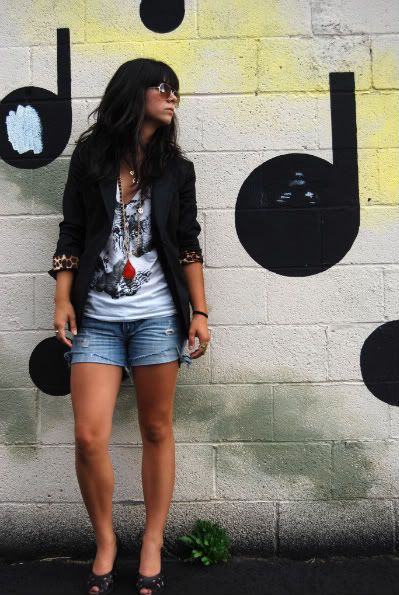 Ladies (and gents)...got some good monetary news. No, I didn't land my dream writing job. And no, that dollar I put into a slot machine yesterday didn't change my life. But I will be getting paid for a story I wrote nearly two years ago for a local weekly entertainment newspaper.
Sure, it doesn't make me feel a whole lot better about that previously mentioned, and guilt-inducing shopping spree I went on over the weekend. But I'll liken it to finding money in your pocket of a jacket from last winter. Totally forgot it was there, probably won't buy you those (insert coveted item here), but in the end, you can manage to buy your friends a few rounds of drinks.
Emily
, I believe I owe you one. And maybe some fries. Good fries.
About the outfit though, I bought this tuxedo blazer from Express months ago, rocking it with my wet lame leggings/jeans/dresses but this marks the first time I tried it out with shorts. This also marks the first time I attempted cuffing the sleeves to show off the adorable leopard print that lines it.
Needless to say, I don't know what took me so long to realize it was there. We've truly been missing out on each other.
P.S. Picked up the most awesome vintage Christian Dior shirt for only $10 yesterday. Can't wait to show ya'll.
Shirt: V-neck screen printed shirt with owl on it, Urban Outfitters
Jacket: Black tuxedo jacket, Express
Shorts: DIY jean cut-offs
Shoes: Black wedges, Kenzie
Jewelry: Multiple vintage necklaces